The Fringe has had a makeover, so seek out your Fringe Benefit style with some new winter accessories.  Meli Melo's style staple bag above, favoured by celebrities and bloggers. View Meli Melo fringed Bon Bon bag.
French fashion designer Isabel Marant's sell- out fringed slouched suede boots at H & M above.
Forget black fringed biker jackets – glamourus designer style evening shoes by Jimmy Choo at Farfetch.com above.
Sam Edelman is a well established  New York shoe designer with an impressive C.V. View  Sam Edelman's fringed boots at Farfetch.com  pictured above, and his black suede fringed high heel ankle boot at Farfetch.com here.
I love his footwear and these fringed suede ankle boots. For more of his shoe creations and designs visit his website at www.samedelman.com. 
Clarks fringed tasseled ankle boots above. Wear fringed boots with skinny jeans and leggings, or style with skirts, dresses and thick winter tights, when the chill sets in.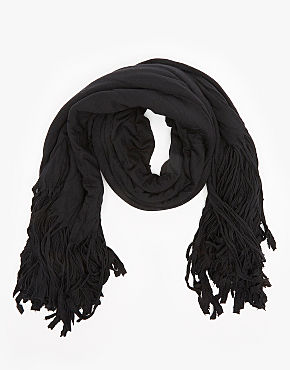 Bank fringed snood above –  to add to a plain sweater, or long sleeve shirt. Blend a black fringed scarf with a dark shade top, like midnight blue, black, bitter chocolate or slate grey. If you are looking for discreet fringed style, look out for fringed tasseled details like these Dents gloves here.  Remember, to only wear one fringed accessory at once!