Wear your black this Christmas layered with sequins, lace or tulle. View the beautiful Simone Rocha Autumn Winter Collection - ( Look 19 on the catwalk strip).
Black is not dense, but textured, the most inexpensive outfit can look glamorous if you get your textures right.  However, I'm very taken with Simon Rocha's designer collection and would if I could, go that route!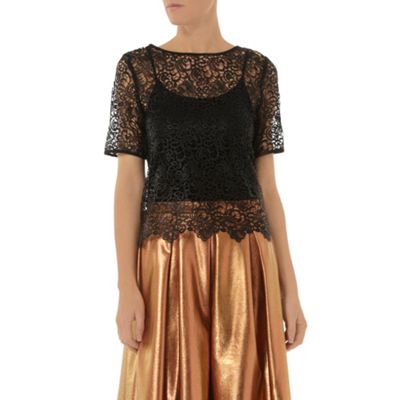 Dorothy Perkins at Debenhams -   Black Cornelli lace top. You could layer a sequin bodice or slipper satin vest underneath your lace top. So many ways to wear this top and endless variations.  Hop around Debenhams designer brands – they have lots of tops to choose from.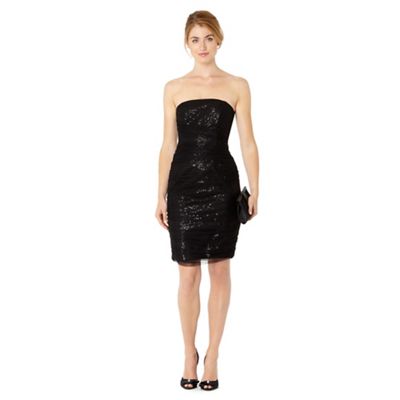 Designers Pearce II Fionda's L B D looks classy and chic. My favourite Christmas combo – sequins with tulle overlay  Pearce II Fionda at Debenhams. 
D.I. Y. Style - Update a sequin dress that has had too many Christmas outings (or top), with a fine tulle overlay. Visit  Joel & Sons for fine tulle fabric, choose the extremely fine delicate tulle.  You don't have to be a great dressmaker, or too precise to layer or wrap your tops or dress in tulle.
Last minute invite?  Finish off your masterpiece with a spray of fabric glitter from Pullingers here. You could also just spray a boring black top to revive it for New Year be creative!
P.S. Have a Merry Stylish Christmas – sorry for the styling silence, but I will try and post on monthly basis, in 2015!