Pimp up your fashion classic white shirt by adding some new accessories and a pair of over-sized Tory Burch designer sunglasses, for that trip to The Hamptons, (perhaps throw in an iconic Tory Burch Tunic too!).
At Net-A-Porter -Tom Binns designer jewellery  and Proenza Schouler's embellished block heels, will bring your classics up to date, along with the essential summer clutch.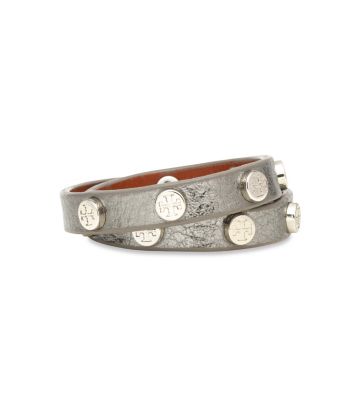 All logo-ed up with a Tory Burch double twist bracelet,above.
Chokers and short strand necklaces are trending this summer. Top Shop's short rope necklace, above.
Styling Tips –  You don't have to co-ordinate your accessories; for example, mix the Top Shop short necklace (or a fine stranded choker), with a chunky bracelet (or the Tory Burch bracelet featured), to mash up your classics. You can mix silver and gold too.
Experiment - at home in front of the mirror, hunt around in your accessory draw for some forgotten necklaces and bracelets and try on with your simple t-shirt, blazer, or white shirt, until you get the desired effect.
Improvise - you may even wish to shorten some necklaces that you no longer wear and layer them up to create your own versions. Quirky accessories can really work with a classic wardrobe.
Purchase in the sale - It's a good time to shop for accessories in the sale – they speak volumes about your style, so invest in some new ones, if you have to, and get your existing summer classics on track.